In the beginning God…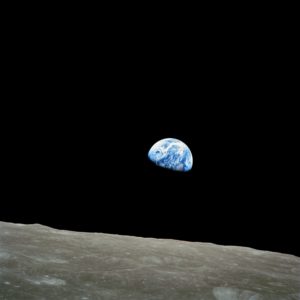 It's the afternoon of Christmas Eve, 1968. As Apollo 8 emerges from the far side of the Moon on its fourth orbit, Astronaut William Anders sees something no man before him has ever seen. "Oh my God!" he exclaims to his crewmates, "Look at that picture there! There's the Earth coming up. Wow, that's pretty."
When Anders begins to click away with his camera, Mission Commander Frank Borman jokes, "Hey, don't take that, it's not scheduled."
Anders laughs. He then realizing he's shooting the picture in black and white. For the most images this didn't matter. After all, Borman told the world the place "the best way to describe this area is a vastness of black and white, absolutely no color."
But the "blue marble" of Earth stood in market contrast to the grayscale reality around them. Anders turned to crewmate James Lowell and asks, "You got a color film, Jim? Hand me that roll of color quick, would you…"
Lovell does so. He also can't contain his awe at the scene Anders seeks to snatch. "Oh, man, that's great!" he asserts.
In that moment, Bill Anders captures what wilderness photographer and adventure photojournalist Galen Rowell declared Earthrise "the most influential environmental photograph ever taken." Life Magazine would later include the iconic photograph in its list of the "100 photographs that changed the world."
Anders photograph – now known as "Earthrise" – beautifully captures the fragile solitude of the living Earth. Some say it launched the environment movement. Most, though, hail its significance as a perfect tribute memorializing manned space exploration. It simultaneously looks back at our shared origin while implying the future that is our destiny.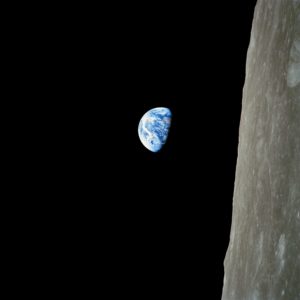 What many may not know, though, is the picture we all recognize was not the same sight Anders saw. In order to better give the sense of a "rising" Earth, the image was rotated 90°. In reality, rather than being in the familiar horizontal orientation, Anders actually saw the lunar horizon in a vertical format.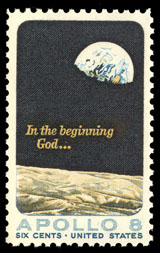 As further validation of the adage "when the legend becomes fact, print the legend," the following year, in 1969, the U.S. Postal Service issued a stamp of Earthrise depicting the incorrect horizontal format.
Not only did the stamp recognize the significance of Earthrise, it also acknowledged the unifying moment that occurred just a few hours after Anders snapped his famous picture when, on Christmas Eve, the crew of Apollo 8 closed their world-wide live telecast with a reading from the Book of Genesis.